Oakham Printers
Here at RCS Digital Printing we are lucky enough to be able to work with numerous local interesting brands and companies, providing differing aspects to their advertising and marketing needs. Whether that be flyers, packaging, stationery or anything else.
In this RCS print blog post we had the joy to hear from local company Mosaic Landscape Design.
MOSAIC Landscape Design, established in 2004, is a multi disciplinary
practice specialising in Natural Swimming Pools, Shows Gardens and Events.
Owen Morgan our lead Landscape Architect is a multi award winning
designer with multiple RHS Gold medals and two prestigious King Frog
awards for his natural swimming pool designs that he creates.
We have worked on a number of exciting projects in the last couple of years
including designing the UK's first permeant public natural swimming pool at
Love2Stay, Shrewsbury and a series of beautiful show gardens with Tesco
PLC.
The leisure development at Love2Stay, Shrewsbury is a ground breaking
clamping and tourism site based around health and outdoor activities. Mosaic
Landscape design worked as the lead designers on the natural swimming
pool at the heart of the development and have further our involvement my
becoming landscape consultants on the whole project. This had lead to us
designing large areas of ecological beneficial and beautiful planting belts
through out the site.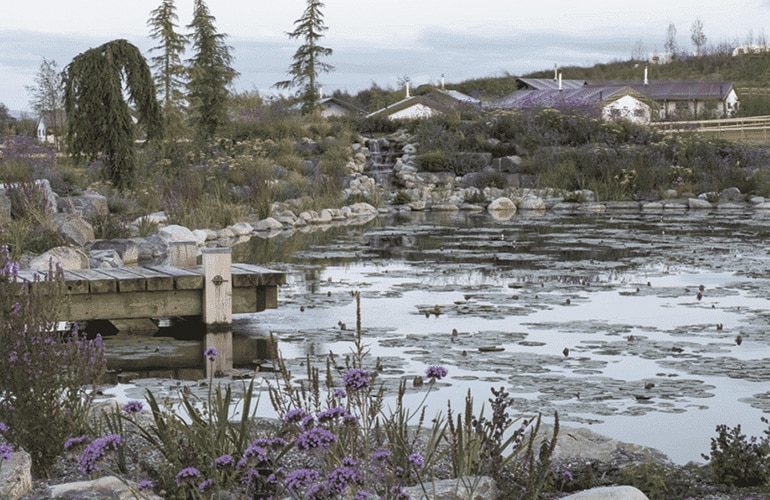 With our work with Tesco PLC we have developed a series of gardens at the
BBC Gardens World Live event to show case the wide range of horticultural
offerings available in Tesco stores. This series started in 2017 with a small
family garden with lots of ideas for people o take home which won a Silver
medal. Then the following year we designed a large garden focusing around
outdoor eating and spaces for the whole family to enjoy, this won a Gold
medal and the prodigious Best Construction Landscape UK 2018 Award. We
hope to be continuing this series with an exciting exhibition piece in 2019.
At Mosaic we really value the help and support from RCS Digital Printing who provide
us with a range of printing services. They are always quick to respond to our
requests however strange or short notice! And always come up with great
solutions, including these simple & clean business cards as per our request.
They also provide us with a fantastic range of water proof and durable plans
which are incredibly useful on site. These are a real asset to us and hugely
appreciated by our network of sub contractors who have to work in all
weathers.
Be sure to check us out for any of your landscaping design needs.
Website www.mosaicgardens.co.uk
Twitter MosaicGardens
Facebook RutlandGardenDesign